We may earn money or products from the companies mentioned in this post.
---
The Best Money Saving Challenges For One Income Families
Looking for a fun and easy way to save a little extra money on a single income? Money saving challenges are definitely it!
As a stay at home mom, I am always looking for extra ways to save money without all of the added stress and sacrifice. Sometimes it's just nice to save a little side cash without having to think about it too much.
Whether you are looking for a little bit of fun money, some money to pay off debt or to start building a beginner emergency fund money saving challenges can help you accomplish all of those things.
What is a Money Saving Challenge?
Money saving challenges are a fun and easy way to save money.
Every week (or month) depending on the challenge you put away a certain amount of money into a savings account. You can also do this with a jar if you are keeping it in cash.
At the end of the challenge, you are left with a nice chunk of change. The money you save from the challenge can range from a few hundred dollars up to a few thousand.
What Are The Benefits of Doing a Money Saving Challenge?
They can help build a saving habit when saving money is typically hard to do.

They are a visual way to show kids the act, benefit, and sacrifice of saving money.

They can be a fun way to add to existing savings without feeling like you are doing anything.

They can challenge you to stick with saving money even when it's hard.

They are easy to follow and implement because there are no special calculations you have to figure out. It's as simple as following the chart.

They have a start and stop date so you can visually see how long you have left. This is especially helpful for kids who might not understand time.
Check Out These Related Posts
---
1. The Reverse Penny Challenge – Save $667.95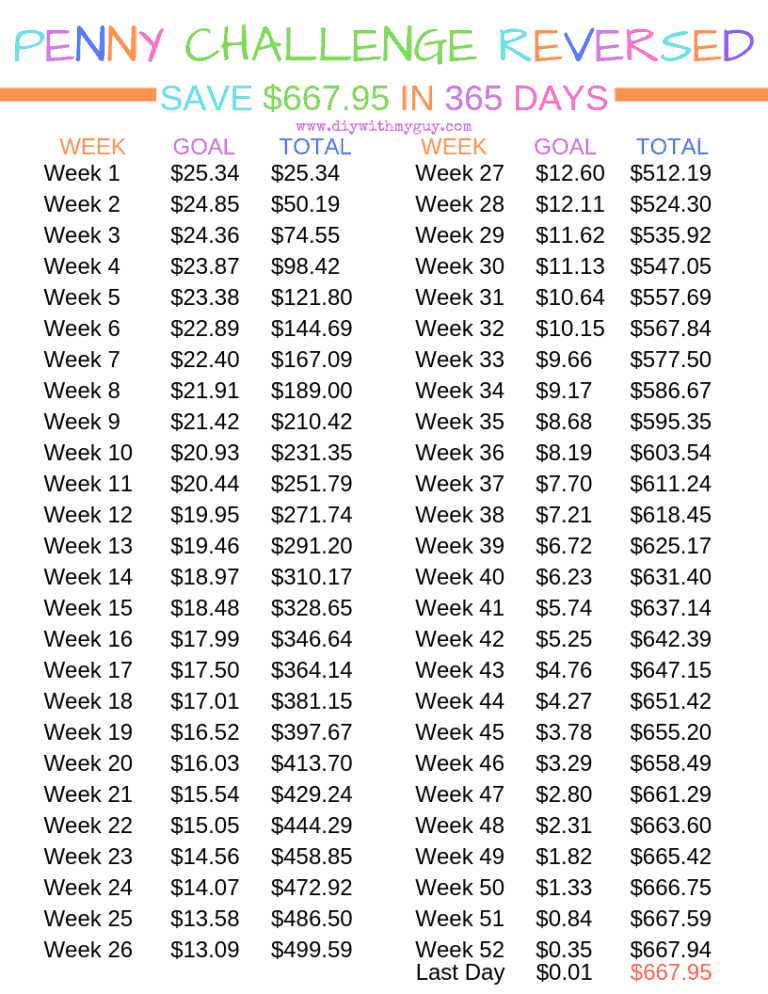 The reverse penny challenge is a perfect way to start getting the entire family involved with saving money. The goal here is to save a certain dollar amount in pennies every week for an entire year. At the end of the year, you would end up with a whopping $667.95.
That's more money than I could ever imagine saving from just pennies.
Finding pennies to add to the jar every week can be a challenge in and of itself. This is where getting the kids involved really helps.
You can find pennies almost anywhere. I know my kids always have a knack for finding pennies almost anywhere we go.
The best places for finding pennies are in the couch cushions, in the car, on the ground outside, really anywhere.
2. Mini Savings Challenge For Tight Budgets – Save $689.00
This mini savings challenge is perfect for tight budgets or anyone living on a single income. As soon as I saw this challenge I KNEW I had to share because it really is doable on any income.
Back in our broke days, this would have been the perfect way for us to save money without feeling discouraged.
You start with $0.50 on week 1 and work your way all the up to $26.00 on week 52. Even towards the end of the challenge, you aren't required to save hundreds of dollars which for a lot of people is a hard time of year to do that.
3. $20 A Week Challenge – Save $1,040.00
This $20 a week challenge is seriously as easy as it sounds. You save $20 every week for 52 weeks and at the end of this challenge you would end up with $1,040.
These are one of those challenges that make me wonder "Why didn't I think of that"
Seriously, who would of that how big of a difference $20 a week could make.
4. 12 Month Money Saving Challenge – Save $1,050.00
The 12 month money challenge is a great challenge to try if you don't want to bother saving money every week. The amount of money you have to put away every month is very reasonable and you will end up with $1,050.00 at the end of the year.
This is a great way to build a $1,000 starter emergency fund if you don't have a lot of extra cash to spare.
Heck, this is even a great way to put money aside during the year for Christmas and other holidays. I do something very similar to this for the holidays and it has helped so much throughout the years.
5. The 26 Paycheck Money Saving Challenge – Save $1,000.00
The 26 paycheck challenge is so insanely easy to follow. The idea behind this is that you are saving a very small amount of money from each paycheck for the entire year.
The saving is done in increments of $10. For example paycheck 1 you save $10 paycheck 2 you would save $20 and so on and so forth.
The cool part about this is that you never have to put aside more than $60 from one check. For most single incomes this is totally doable.
6. 30 Day $100 Savings Challenge – Save $100.00
This 30 day $100 challenge is SO simple. This challenge starts off by saving $1 a day for 5 days. The next 5 days you would save $2 every day and so on and so forth. At the end of the month, you would end up with $100.
This challenge is perfect for anyone who has a really hard time saving larger amounts of money per week. Even with the tightest of budgets, most people can save $1 a day.
This savings challenge could also be really fun if you're looking to save a small amount of money for something fun. You could use this chart as a way to get your kids involved with saving for a special day out or a fun dinner at the end of the month.
This would also be perfect for saving for a date night if money is really tight. The possibilities are endless.
7. The Cross Off Money Saving Challenge – Save $1,469
This cross off money challenge really lets you take control of how much money you can save at one time. Instead of following a chart that tells you how much to save and when you get to control how you are putting the money away.
Regardless if you are saving the larger amounts first or saving them for later at the end of the year the results are still the same.
A nice $1,469!
Another fun part about this challenge is that you get to cross off the amount you are saving every week. It's a very interactive way of saving money.
8. The Tenner A Week & Double On Payday Challenge – Save $1,040.00
This tenner a week and double on payday challenge is a totally unique way to save money. This challenge only requires you to save $10 a week and then the weeks you receive a paycheck you would save $20. At the end of the year, you would end up with $1,040!
This is such a fun and realistic way that any family can save money even with the smallest of budgets.