We may earn money or products from the companies mentioned in this post.

The Best Deals Of The Week No Coupon Clipping Required – Target 07/22/18 – 07/28/18
Couponing is an excellent way to save money on everyday items but it can also be overwhelming for people just starting out. Between buying multiple coupon inserts, printing coupons, clipping coupons and running around to different stores I can understand why most people don't even attempt to start.
That's why I am determined to help people save their family money without feeling like they need to do all of those things listed above. It is still totally possible to find quality deals on things you would actually love and use without the hassle.
Since I no longer buy Sunday newspaper inserts anymore most of the deals I do will not use coupons found in the paper. Occasionally, I will receive an insert in my mail and If I do use any paper coupons I will make sure to let you know.
A few things you should know before I jump into the deals I took advantage of is
Every week I always have a least a $5 gift card from the previous week's deals to use toward my purchase.
This week I did 2 different transactions on 2 different days because 1 item I wanted was out of stock. Usually, I try to stick to one transaction because I'm all about the easy couponing life these days.
Some deals have additional savings through Ibotta so save those receipts!
I also have a video on this deal if you prefer to watch it instead of read it, you can check it out below
Deal #1 Pantene Pro V Shampoo/Conditioner & Irish Spring Body Wash
My store had the dual packs of the Pantene shampoo/conditioner as part of the buy 2 get $5 gift card promotion. They also had other brands available in this promotion including Herbal Essences and Head and shoulders.
I purchased:
2 dual packs of Pantene Shampoo/Conditioner $6.99 each 
$1 off coupon from Cartwheel app, received $5 gift card back
3 Irish Spring Moisture Blast Body Wash $3.99 each 
$1 off coupon from Cartwheel app, received $5 gift card back. 
Total after cartwheel, tax and $5 gift card from previous week = $21.09 plus $10 in gift card's for next transaction 
Deal #2 Gain Bontanicals Fabric Softener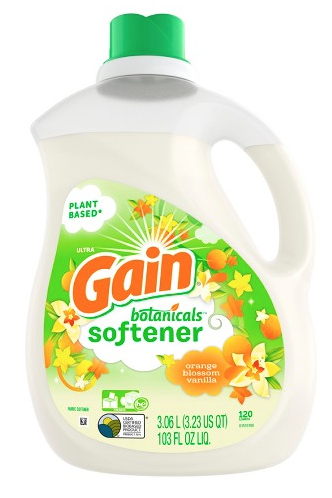 I purchased:
2 Gain Bontanicals fabric softener $9.99 each, received $5 giftcard back 
I used:
15% off gain from Cartwheel app, plus $2 off manufacturer coupon from Cartwheel app.
Used $10 gift card from the previous transaction 
Paid:
$5.97 received $5 back for next week's deals 
There is also a $.25 rebate on ibotta for any brand fabric softener!
Total paid out of pocket between both deals $27.06
See you next week! Happy Couponing!