We may earn money or products from the companies mentioned in this post.
Years ago when I first started meal planning I would always scour the internet every week looking for ideas and inspiration. But being on a budget (a very tight one might I add) made it nearly impossible to find decent dinner meals that didn't consist of rice, beans and ramen.
The thing is, I don't just want to share random meals I find on the internet with you, I want to share exactly what I'm making so that you can be inspired to create yummy (yet realistic) meals for your family even if money is tight.
If you are new to my budget friendly meal planning posts I usually plan 4-5 dinners a week leaving 1 day for eating out, and 1 day for our Friday homemade pizza night. My husband and I always use our leftovers for lunch the next day but some weeks we have more leftovers than we need for lunches and so I will either freeze what we have left or we will have a leftover night.
This weeks meal plan is equally as cheap as it is easy (yay!) Some of these recipes consist of little to no prep with very minimal ingredients. These recipes are definitely worth trying out!
If you're looking to reduce your grocery spending in a totally easy and painless way one of my favorite ways to do so is by using ibotta. It's completely free to use with no coupon clipping required! Right now when you sign up you get $5! Free money? Yes please!
Check Out My Fav Ways To Save!
SAVE MONEY WITH A FEW OF MY FAV'S
The Recipes:
Crockpot Chicken & Dumplings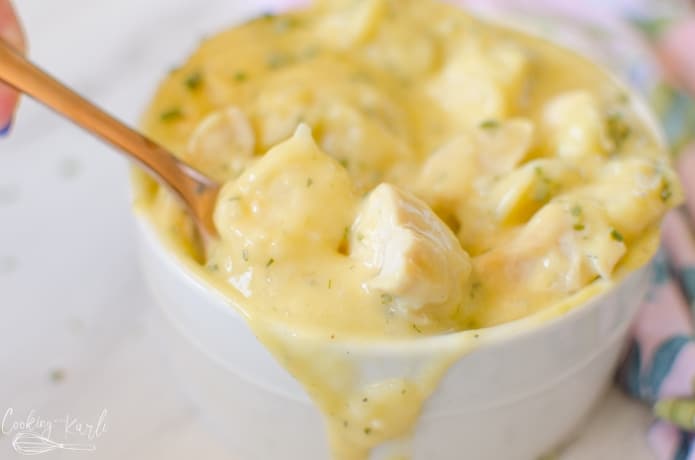 (Recipe from Cooking With Karli)
This recipe has instantly become a new family favorite. I've probably made it at least 5 times since I found it a few months ago. It's incredibly easy to put together (like 5 minutes tops!), is a crockpot recipe and doesn't require very many ingredients which makes it extremely budget friendly. Anytime I can find a delicious meal idea that is quick, cheap and easy I am ALL FOR IT!
French's Crunchy Onion Chicken
(Recipe from Mccormick)
Fun fact: My husband absolutely hates onion. He dislikes it so much that I didn't even tell him the name of this recipe because I knew he would more than likely have a negative feeling going in and I wanted his true reaction.
He ended up loving it! This is a great way to use up any leftover onion pieces you didn't use for your green bean casserole after thanksgiving. Let me tell you, this was so easy. I feel like I say this all the time because, well, I love finding easy recipes. I live for it. Easy, cheap recipes are the best recipes to find when you want to eat well without spending hours in the kitchen. These are the recipes that help you stick to your meal plan.
A++++ from me!
Layered Taco Salad
(Recipe from Chin Deep)
If you're looking for something you can make the morning (or night) before this is it! This meal is similar to a seven layer dip with a more salad like twist. This is perfect if you're in the mood for something casual or you have company over. We portioned it out on top of tortilla chips and ate it like nachos but you could totally put it in a tortilla or taco shell too. I was surprised that we were able to get 2 nights of dinners out of this meal which makes it really affordable.
Asian Turkey Meatballs
(Recipe from Chef Savvy)
My kids are so incredibly picky when it comes to meat but if you put it in the shape of a meatball they gobble it up. The best thing about these meatballs is they are different from your traditional every day meatball and the prep time is only 10 minutes! Pair this with some rice and veggies and you are good to go.
Grocery List
Below is a grocery list of everything you will need to recreate this meal plan. If an Ibotta offer exists for a particular item you will see that notated next to it. To make things a little easier for you I also created this grocery list as a printable that you can download for FREE by clicking the image below.
Please note that Ibotta offers change frequently. Depending on when you are reading this there could be new offers for these items. It's always worth it to search for the item in Ibotta to see if anything pops up.
A great way to save money on your weekly meal plan is to have your pantry stocked with basic staples. By having these basic staples on hand you will be able to make meals easier, cheaper and more efficiently. You can find that post HERE to help you get started building your pantry on a budget.
For this meal plan you will need:
Chicken Broth
Chicken Breast x2
Onion x2
Dried Parsley
Cream Of Chicken
1 Can Biscuits
French's Crispy Fried Onions
All Purpose Flour
Eggs
1 lb Ground Beef
Green Chilies
Shredded Lettuce
Taco Seasoning
Ranch
Sour Cream
Mayo
1 Can Sweet Corn
Salsa
Shredded Cheddar or Mexican Cheese
Olives
Bacon
Jalapeno
Tomatoes
Tortilla Chips
1 lb Ground Turkey
Panko Bread Crumbs
Garlic
Green Onion
Sesame Oil
Soy Sauce
Hoisin Sauce
Sesame Seeds (optional)
Want To Remember This? Share it to your favorite board on Pinterest!